Creative Education
Postgraduate Certificate
Course overview
At UCA, we recognise the transformative potential of education to improve the lives of individuals and communities, and our Creative Education Postgraduate Certificate will give you the tools to develop your confidence as an educational professional.
This course will help you build on your teaching practice to make more confident judgements regarding teaching, learning and assessment. Using a range of creative approaches, you will develop your ability to design, plan and facilitate effective learning to meet the needs of a diverse student body.

Each unit of study is aligned with Descriptors 1 and 2 of the UK Professional Standards Framework (UKPSF), ensuring that you are well prepared to work effectively as a creative educator in the Higher Education sector upon graduation. Successful completion of each unit of study enables you to be recognised as an Associate Fellow (unit 1) or Fellow (unit 2) of the Higher Education Academy.

The course team strives to maintain an equitable, diverse, connected and democratic community that supports effective learning and evolves in response to your changing needs. We offer flexible study opportunities, and the course is delivered predominantly online to enable you to study around your professional commitments.

Taught sessions are delivered by video-conference on Wednesday mornings between 10 am and 12 noon, and on Thursday evenings between 8 pm and 9 pm. In addition to these, you will participate in online discussions and activities that enable you to apply your learning in your own professional context.

If you're ready to get creative with your teaching, we'd love to hear from you. Please contact the course leader, Tony Reeves, for an initial conversation - his details can be found below.
Course details
The content of the course may be subject to change. Curriculum content is provided as a guide.
Learning About Creative Education
The first unit, Learning About Creative Education, focuses on how students learn in creative contexts and enables you to explore inclusive and intercultural approaches to education. Using relevant academic literature, you will examine the characteristics of creative learning environments and guidance, and consider the role of assessment and feedback in effective learning. The unit also provides opportunities to compare the educational value of a range of learning technologies, and to consider ways of engaging and motivating students.
Analysing Creative Education
The second unit, Analysing Creative Education, explores the ways in which educational experiences can enable us to transcend personal and professional constraints, and examines your role in facilitating these opportunities. By relating your professional experiences to relevant academic literature, you will critically reflect on issues including:
the role of assessment and feedback in effective learning,
your role in quality assurance,
appropriate and creative use of a range of learning technologies, and
the wider social and policy context of creative education.
By the end of the unit, you will be able to critically reflect on your professional development needs and identify potential next steps.
Tuition fees
The course fees for 2022 entry are:
UK students - £1,390 (per 30 credits)
Additional course costs
In addition to the tuition fees there may be other costs for your course. The things that you are likely to need to budget for to get the most out of a creative arts education will include books, printing costs, occasional or optional study trips and/or project materials. These costs will vary according to the nature of your project work and the individual choices that you make. Please see the additional course costs for 2021 entry. The details for 2022 entry will be available here in due course.
Further information
For more detailed information about our course fees and any financial support you may be entitled to please see our fees and finance pages.
The fees listed here are correct for the stated academic year only. Costs may increase each year during a student's period of continued registration on course in line with inflation (subject to any maximum regulated tuition fee limit). Any adjustment for continuing students will be at or below the RPI-X forecast rate.
Course specifications
Please note, syllabus content indicated is provided as a guide. The content of the course may be subject to change in line with our Student Terms and Conditions for example, as required by external professional bodies or to improve the quality of the course.
You'll have access to excellent facilities at our Epsom campus, including computer suites with Macs and PCs loaded with the latest design software, and a well-stocked library with student development services.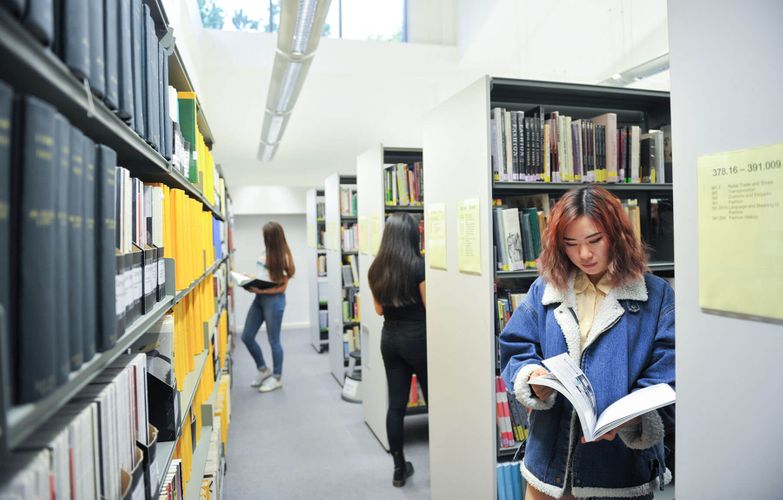 Library, UCA Epsom
Digital Media suite, UCA Epsom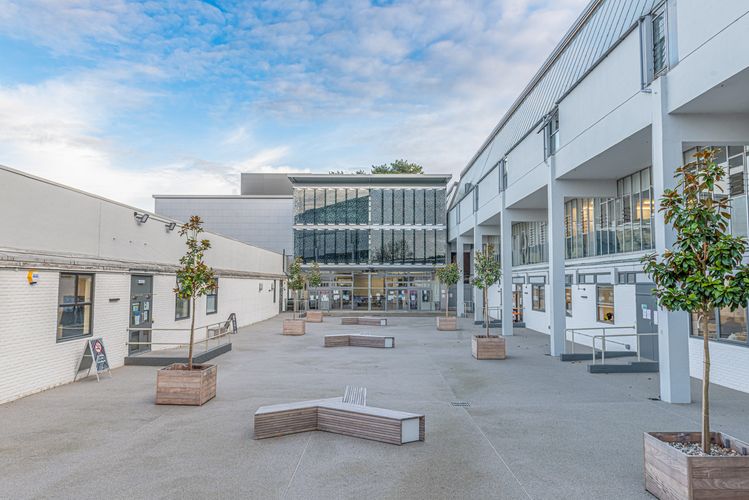 UCA Epsom
Library, UCA Epsom
Course connections
Our course provides the opportunity to focus on developing teaching practice, at the same time as professional art and design practice. This dual professionalism is highly valued in FE and HE contexts.
You will gain experience of developing a small-scale research project provides experience of producing, writing and disseminating research.
Past participants have found this valuable when applying for practice-based research funding or writing PhD proposals.
A successful career in teaching or supporting learning in FE and HE contexts requires three key ingredients. These include: a subject discipline qualification (preferably at Masters level), significant professional art and design or professional support practice, and a teaching qualification
The Postgraduate Certificate in Education is the generally accepted teacher or supporter of learning qualification in the FE and HE sectors.
For those working in the FE sector - the Postgraduate Certificate in Creative Education covers the FE and skills sector mandatory content of the Diploma in Education and Training.
Entry requirements
Graduate Certificate in Creative Arts Education or the Preparing to Teach in the Lifelong Learning Sector (PTLLS) (or equivalent eg City and Guilds 730, or Certificate in Education)
or
BA Hons (normally first-class, upper second or equivalent) or international equivalent in a relevant discipline and more than three years' (full-time equivalent) teaching experience
plus
One day a week or equivalent (minimum) of work in a teaching/supporting learning role at UCA or other FE and skills and/or HE establishment
GCSE English at grade C or above, or equivalent.
In some instances, this requirement for teaching experience may be provided through one day per week of voluntary (unpaid) teaching support for UCA, subject to a satisfactory interview with the relevant UCA manager or Course Leader.
Applicants working at UCA (including sessional staff) must, in the first instance, seek approval of their line manager to do the course. Line manager and Head of School/Department sign off will subsequently be needed.
Mathematics Level 2 for entry to the course isn't needed, but applicants should be aware that they may need this qualification to gain employment in FE and skills sector.
This course doesn't require a portfolio.
Please use the following fields to help select the right application link for you: