Student shortlisted for
V&A Illustration Awards
UCA Illustration student Leo Ioviero has been shortlisted for the V&A Illustration Awards 2022.
14 Jun 2022
His short, wordless comic waiting, about the rushed morning routine of a working woman who is waiting for the kettle to boil so she can finally drink her cup of tea and leave the house, was nominated in the Student Illustrator of the Year category.
Leo said: "There were some wonderful entries that didn't make the shortlist so, I'm thankful I got the opportunity.

"waiting is a meditation on daily life, the mundane, and the trivial stresses and inconveniences we impose upon ourselves."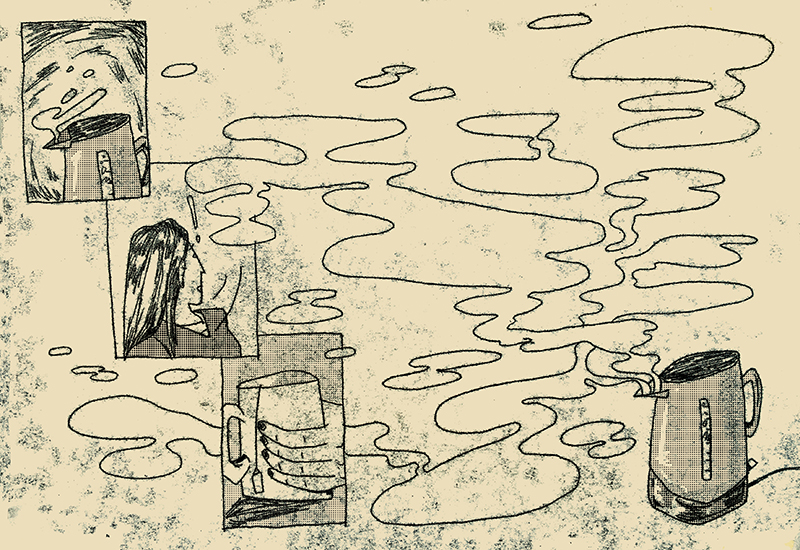 Leo used close-up illustrations to draw the viewer's eye and convey narrative, such as a finished plate of toast evoking a morning routine. Together with smaller panel sizes, Leo was able to explore the rhythm of pacing and build up the story to create moments of urgency, such as the repetition of the kettle image.
By using monoprint and risograph, Leo was able to create a more textured and hand-crafted look to his comic, with a gritty and raw feel. It also allowed him to create something more personal than compared with a digital print.
The main inspiration for his work is the everyday and mundane observations of the world, like people, transport, and spaces. These hold stories, which Leo can then twist and bend into something that feels curious, dynamic and odd.
"I try to refine and perfect the feel of my work through improbable, exaggerated angles, and a scribbly, unhinged use of line. I am still not sure why the unsettling nature of my work is so important to me but being aesthetically driven means I am constantly working towards something," said Leo.

"I hope to go into storyboarding for animated films. So, I think my love for comics and graphic novels comes from this same sequential way of storytelling and is what motivates me to develop my skills for working with weird angles and pushing the dynamic qualities in my work."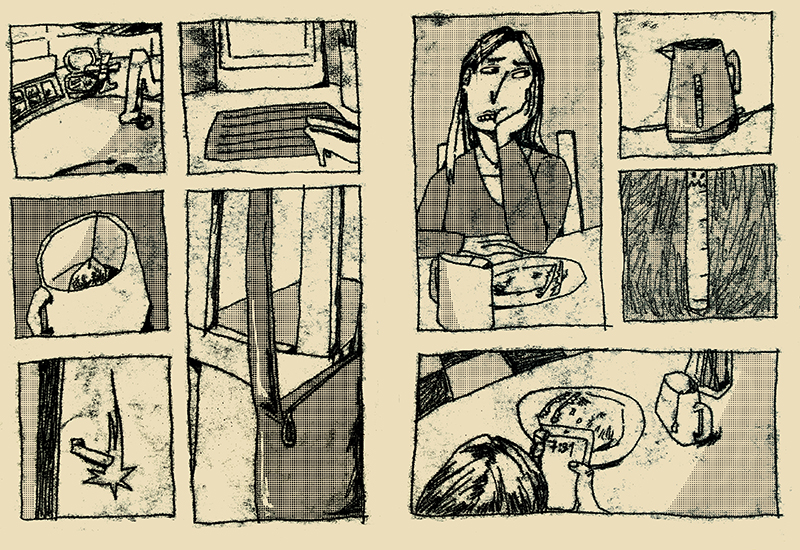 Leo recommends UCA's Illustration course for anyone with a strong sense of visual direction. He came to it after a great experience with the foundation course at Epsom, and enjoyed the open environment it provided for trying out new things and cultivating his own visual identity.
Award winners and the student winner, runner up and highly commended entries will feature in a display of digital prints in the V&A South Kensington galleries opening to the public on 20 July. Category winner will also receive £3,000 and the student runner-up will win £2,000.
To find out more about Illustration degrees at UCA, visit the course pages.