Showing face — Hannah stars on TV's latest hit competition

Great British Bake Off, Portrait Artist of the Year, The Great Pottery Throw Down — there's been a whole host of amazing art and craft competitions on our TVs in recent years, and BBC Three's Glow Up! is another one to add to an already impressive pile.
19 Aug 2020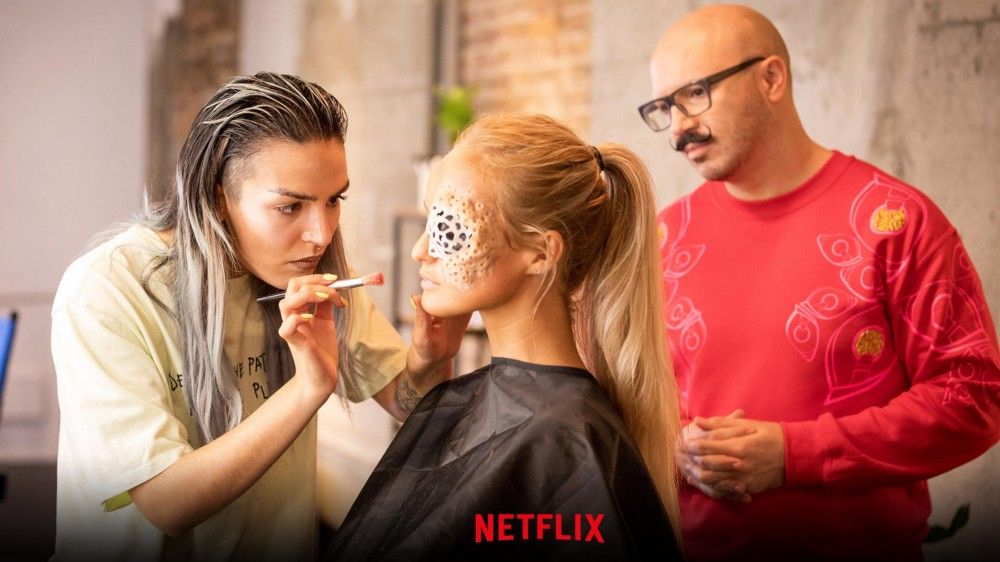 This year's second season, hosted by investigative journalist Stacey Dooley and also shown on Netflix, just finished airing, with Ophelia Liu winning the main prize.
But coming fourth — despite having never applied make-up to another person before — was UCA graduate Hannah Cunningham.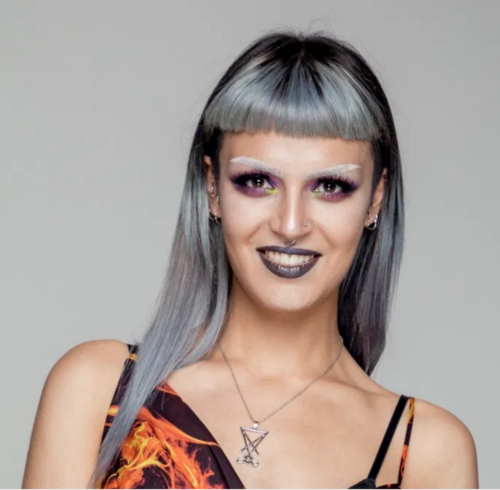 Hannah, who lives just outside of London, graduated from UCA in 2016, with a BA (Hons) Fashion Management and Marketing* degree. She now works for MAC cosmetics, is also a DJ, and spends her spare time practicing special make-up effects and making skin prosthetics, transforming herself into fantastical creatures to perfect her skills.
We caught up with her to find out how she went from studying the business of fashion, to starring in the hit make-up competition.
Hi Hannah, let's begin with your time at UCA. You studied Fashion Management and Marketing — what drew you to that course and what were your career ambitions when you joined?
At the time, I was extremely interested in the business behind fashion. I wanted to get into merchandising, I loved the idea of being able to influence business decisions and control money, while still being involved in a creative industry. I still am very driven by seeing results and data, and so the course was invaluable. What I learned has helped me expand the creative path I have chosen. I also wanted to have more business knowledge in general, I was very wary that if I just went straight for a creative course, I might lack the analytical skills needed to drive my own progression.
So how did you get into make up? Is this a new hobby for you, or have you always been into it?
I've definitely always been creative, but also have always been wary of it. I had this overwhelming feeling that going in to a creative career would leave me with no money (a belief instilled from secondary school).
UCA, and my course, definitely changed my opinion of that as I felt like I trusted in myself more to just make whatever career path I chose afterwards, work for me. When I was working in merchandising, I found that I needed a creative outlet. I started practising makeup and changing myself into this sort of otherworldly creature — it was my escape from the everyday normal. As my online channels expanded, and the better I got at it, the more I wanted to merge my professional path and my hobby. Having done my degree, I felt confident in navigating this, because I would always have that business and analytical skill to fall back on.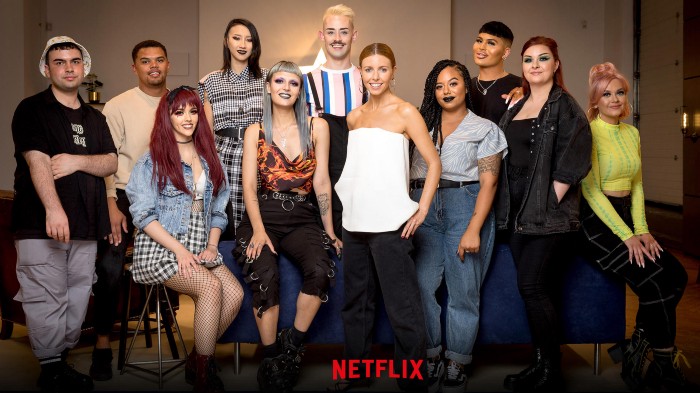 Being on a show like Glow Up! must have been amazing! Tell us about that experience, what were the highlights and what did you personally gain from it?
Glow Up! was the most valuable and terrifying thing I have ever done! I had never done make-up on anyone else prior to the show, so I really was put through my paces. I was extremely nervous at every turn but looking back at the whole experience and I am so proud of what I achieved in the time there.
Being among people who loved being creative as much as me was amazing, and all the other contestants taught me something new. I learned how to work as a make-up artist in a professional setting, and learned lots of little tips and tricks from the pros. It led to me leaving my office job in November and joining MAC cosmetics to further my skills in glam and every day make-up — still both very valid and tricky styles. I usually gravitate towards more SFX based and alternative styles, so am not as used to glam.
Did being on the show change your career ambitions — what are the goals now for you?
I think it did. Before the show, I had a feeling that I wanted to go into SFX artistry but I wasn't sure I would like it because of the level of miniscule details you have to pay attention to when painting and applying prosthetics, i.e. skin pores, rosacea etc. But the episode where we were on the set of Holby City, was amazing and I loved every single second of it. So, from then on, I knew I wanted to go into special effects makeup.
We have a BA (Hons) Make-up and Hair Design course now at UCA Rochester — what would your advice be to those students about to start?
It may sound obvious, but practice on as many different skin tones and textures as you possibly can. That's something I've found really great about working in a retail cosmetics environment; I have been able to work with customers of all skin types and shades and just that repetition and practice has made me feel confident with any skin type. I would say also to document your work so you can see your progress. Even if it's a private instagram account just for you, to see what your skill level was this time last year is often a great confidence booster and motivator.
Obviously this year has been a challenge with the pandemic. How has lockdown affected your work? What challenges have you faced?
Well the beauty industry has come to a halt unfortunately, so while I am back in work now, makeup appointments and demos will be off the cards until after Christmas. But this hasn't meant I can't collaborate with other creatives online and create something remotely. Promoting each other's work seems to be the best way to get noticed by new eyes at the moment! It has been challenging to stay motivated, I feel that my inspiration will come when I feel content and busy, when my brain is stimulated. But throughout lockdown there was obviously only so much happening. I have put in time for myself each week to seek inspiration. To actively go out of my way to find a film or piece of work or art that inspires me to feel something, which I can then use to create. It's not necessarily forcing creativity, it's just proactive in finding it.
And finally, we've got to ask — what tips do you have for people looking to still look fabulous while wearing a face covering? Should we go bold with our eyes?
Definitely go bold with your eyes! There's also a lot you can experiment with, with brows. There are plenty of makeup brands that sell colourful brow pomades and tints. You can also style them in different ways, try going laminated or make them fluffy and boyish. I love a bold eye, make sure you put on a good eye base, or even your most trusted longwear concealer on your lids to stop the shadow from falling out onto your mask.
I think it's also fun to see what you look like with freckles on the bridge of the nose, any brown eyeliner or lip liner dotted on and patted out will do.
I have to wear a face covering all day at work, and to be honest have not been wearing any face makeup from the nose down! If like me, you have been getting breakouts from the mask, make sure you do skincare face masks weekly to clear out the pores and get a good gel moisturiser to put some life back in the chin area, which is no longer seeing the sun.
*BA (Hons) Fashion Management & Marketing is now BA/BSc (Hons) Fashion Business & Management.